Scottish Harp or Clarsach
If you're looking for a wedding harpist, why not give your wedding service and reception an authentic Scottish flavour with traditional music on the Clarsach (Scottish Harp)?
The Scottish harp, or clarsach in Gaelic, is the ideal instrument for a wedding ceremony held in a stately home or castle. The harper (we use the term harpist these days) would always be present at courtly and formal occasions.
The clarsach is equally at home in a hotel suite for the smaller more intimate wedding, or with a little amplification as an alternative to the organ in church.
Harp music on the small harp or clarsach has been heard in Scotland for many centuries. I'm Robert Kerr and as an experienced Scottish harpist I'm frequently in demand to play at weddings, christenings and other events.
I'll lead the singing and sing solo if required - I've a repertoire of suitable songs. Click on the links to the right to hear samples of my Scottish harp playing. If you have any problems downloading or listening to the mp3 files please send me an email to request a CD.
My composition, On Eagles' Wings, is proving very popular and you can download the sheet music here without charge (although a donation would be appreciated!) Click here to listen to the tune.
The harp is well suited to background music too - its particular acoustic properties give it the ability to be heard without being intrusive. To continue the Scottish ambience through into the reception, listen to its gentle harmonies while you and your guests enjoy your meal.
If you would like to book me to play the Scottish harp on your special day, or would just like to discuss it,
please phone me on 07932 162169 or contact me by email.
Harp solo:
Harp with vocal: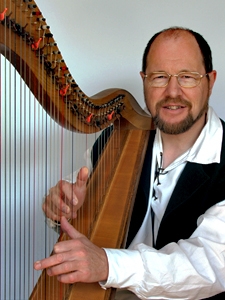 Harp and fiddle:
Fiddle solo:
(The fiddler in these samples is Jenni Fraser, who sometimes plays with Sounds Braw ceilidh band. You can see and hear more of her on her own website, Fantoosh Music.)
And a fiddle and harp video with Lesley Thompson, our regular Sounds Braw fiddler:
Spootiskerry